Candy From A Stranger--CK 67618--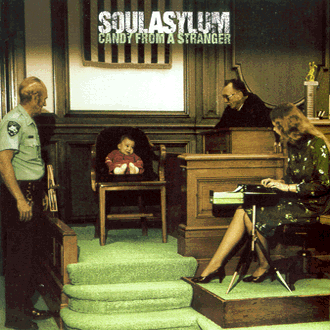 track list: :

Creatures of Habit (3:23)

I Will Still Laughing (3:46)

Close (4:32)

See You Later (4:43)

No Time For Waiting (3:14)

Blood Into Wine (4:03)

Lies Of Hate (4:39)

Draggin' The Lake (3:37)

New York Blackout (4:05)

The Game (4:26)

Cradle Chain (4:45)
All songs were written by Dave Pirner, except "Lies of Hate" by Dave and Sterling.
Soul Asylum: Dave Pirner (vocals, guitar); Daniel Murphy (guitar, vocals); Karl Mueller (bass); Sterling Campbell (drums).
Canadian Limited Version (SONY M59297) contains a bonus EP recorded at the Palais Royale, Toronto ON 10/23/95 :
I should've stayed in bed
Die In Your Arms
Straight Up
Somebody To Shove
Closer to the stars
The Japanese Version (SONY_ M59477 ) Adds one extra track, Losin' it.
Other Musicians: Steve Harper (percussion); Jon Carin (piano, Wurlitzer, harmonium, lap steel guitar, organ, farfisa, mellotron); John Woodland, Chris Kimsey, Astrid Pasmino (background vocals).