SOUL ASYLUM~
Back to Work Tour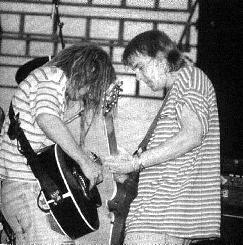 Some of the songs played included some new, now released songs as well as as "Somebody To Shove", "Misery", "Black Gold", "Promises Broken", "Runaway Train",
"Beggars and Choosers", "Grounded", "String Of Pearls", "Just Like Anyone", "Without A Trace".
Covers are still are a part of each show as "Backdoor Man","Rhinestone Cowboy" and "Sweet Jane" were played often.
Next tour, what cover or older song would you like to hear ? (E-mail me)
Some current picks for cover tunes:

Pix for older tunes LIVE:

Thank You-Led Zeppelin

I Love Trash-Oscar the Grouch (from Sesame Street)

Sweet Caroline-Neil Diamond

Piece Of My Heart-Janis Joplin

He's a Whore;Ballad Of TV Violence-Cheap Trick

Sun Don't Shine; Ain't That Tough

Growin' Into You; Masquerade(!)

Cartoon; Be On Your Way

Nice Guys (Don't Get Paid)

We 3; Wandering Eyes

Homesick; Closer To The Stars; Walking
More Tour news~~~~~bANG writes:

At the
Mill City Music Festival in Minneapolis on September 2, Labor Day, they had to stop twice because of blown amps or something. The band didn't know it, and actually started and finished another song "Without a Trace" without noticing. It was kinda cool, because it gave the audience a chance to sing in unison for the entire song. I know Dave's got a hearing problem and it was outdoors, but I couldn't believe they couldn't tell. They also did "When I Ran Off And Left Her" at this show.
At the same gig, Dan Murphy's son, Kelley, was given the duty of introducing Soul Asylum to the crowd, just like he did for dad's "other band" at Grand Old Days in St. Paul this past summer. Well, he came out and, seeing Daddy again onstage, introduced Soul Asylum as "Golden Smog"!

Past Tour Dates
Go Back to CagedRat's Soul Asylum Page